Panthers dominate Custodia Super Liga Openers
Report by Alex Stanier
Week 1 – Custodia Super Liga 2019
With cloudy conditions overhead, three regular West London teams appeared to kick off the season. The Power Ninja's, last season's excellent family team, Susie, Simon, Stan, Ted were joined by friend Owen. Also attending were Ben, Lewis, and Toby as regulars of the Panthers, Alex, Hew the regulars of the Warriors and new player Arash Sepahi, from Brunel University making his first West London appearance after playing previously at Highgate, who played really well.
After a short warm up and training session, the first practice match, as a rules reminder / explanation, was the Power Ninja's against the Panthers. It ought to have been a simple "easing in" match. Instead the Ninja's won by two points 17 to 15…. but as a practice match it does not affect the stats. But did it set the tone for more upsets?
NO, absolutely not! The first full match was a complete floor wiping exercise by the Panthers of the Warriors (albeit playing with Owen (first ever match) and Arash (second ever session). There were elements of "Cat playing with a mouse" at times. The Panthers had hit their stride!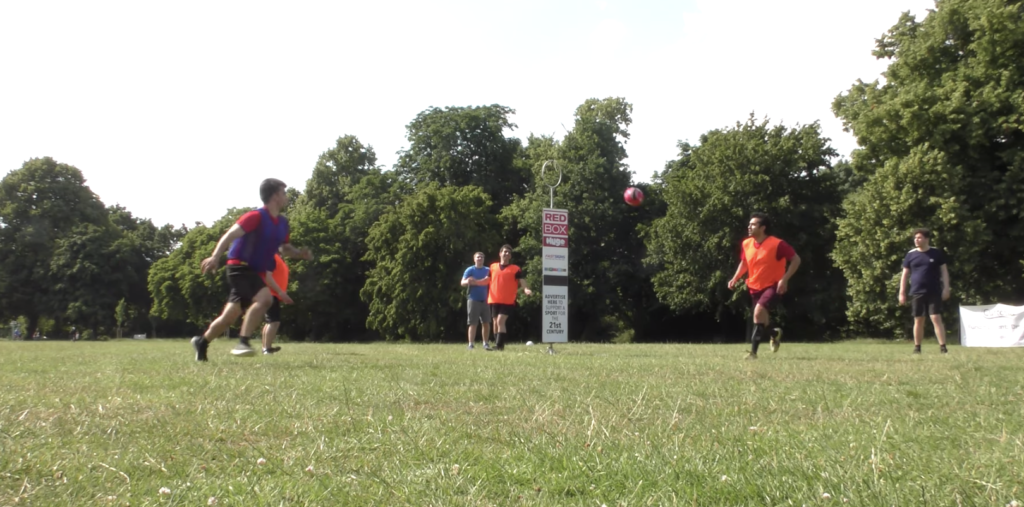 Result on the day: Pitshanger Panthers 15 v 2 Woodfield Warriors
Next up, the Panthers, fresh from victory, took on the Power Ninjas. But the Ninja's had no plans to lie down and take it easy… until Simon twisted his ankle and literally dragged himself out of the arena, to lie down and recover. Whereupon Susie took control and brought the Ninja's to the brink of an amazing victory if there had been another 30 seconds. But it was not quite to be, Panthers won again.
Result on the day: Pitshanger Panthers 9 v 7 Power Ninjas
The final round robin match of the day, was the Warriors / Ninjas. Simon was able to join in again, and the match was close with an exchange of Volfsballs to keep the pressure on right into the final third but the Warriors finally pulled away scoring a Volfsball in the final few seconds.
Result on the day: Woodfield Warriors 20 v 12 Power Ninjas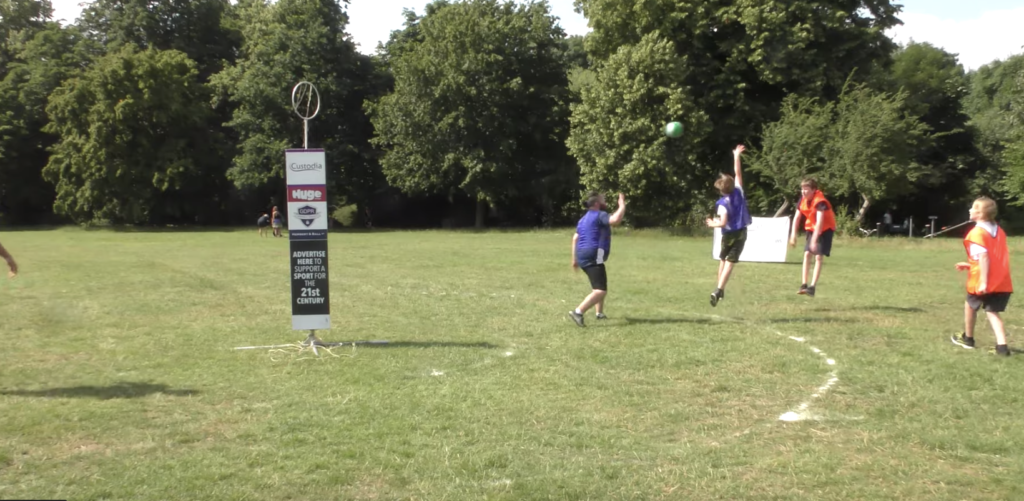 The extra match between the Pitshanger Panthers and Woodfield Warriors was played as a final chance for the Warriors to gain a victory over the Panthers. But with the scores levels at 18 all after 9 minutes a draw was a fair result.
Only to discover after watching the rushes that it was 19 – 18 in favour of the Warriors.
Result on the day: Pitshanger Panthers 18 v 18 Woodfield Warriors (Actual 18 – 19)
A wonderful first week, with 9 Volfsballs scored, we look forward to the FemGents, Kilbonz and ChokeHazards coming down to assert themselves next time on July 20th as a warm up for the World Championships next day on July 21st at the Highgate arena.
We will see you soon for Week 2.