Lakers Win Der Goldene Volf
Thanks to Rob Marland for report and video
On a crisp winter's morn the four greatest volfsball teams north of St Albans reconvened to scrap it out in the 2nd annual Northern Volfsball Tournament for the chance to lay their hands (lips, etc) on Der Goldene Volf trophy. As before, the teams played a round robin: the team with the most wins, or the highest points difference in the event of a tie, would get to hold the trophy for five minutes.
Game 1
Hoylake Red Rocks 12 – 5 Tranmere Lions
(Score was 10 – 5 on the day)
Red Rocks – R. Marland, Birss, P. Marland, S. Marland (sub)
Lions – Marshall, C. Devlin, P. Devlin
Last year's winners duffed up last year's losers in the opening bout, with Rob Marland scoring 9 points for the team in red. Lions captain Chris Marshall and teammate Charlie Devlin combined for 8 blocks/intercepts, but it wasn't enough to halt the on-form Rocks. This match also saw the debut of 9 year old Sam Marland, the youngest volfsballer to feature in competitive play, whose sole contribution was a shot that Marshall mercilessly swatted into the cheap seats.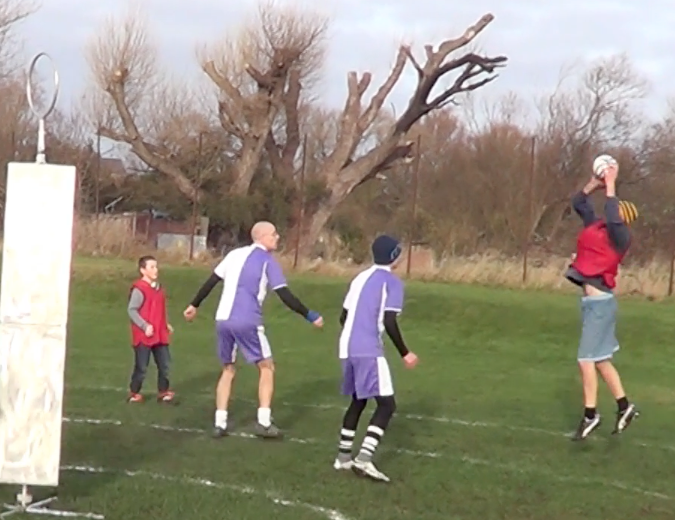 Game 2
Tranmere Lions 2 – 14 West Kirby Marine Lakers
(Score was 2 – 13 on the day)
Lions – Marshall, C. Devlin, P. Devlin
Marine Lakers – Utley, A. Marland, P. Marland, Birss (sub), R. Marland (sub)
With their roster depleted thanks to the tournament clashing with a Liverpool match, the Marine Lakers raided the Red Rocks' bench and poached offensive phenom Andy Marland from the Fircones (Fircones captain Hannah Wareing was powerless to protest because she was in Boots stocking up on cut-price presents for next Christmas). Charlie Devlin put on a defensive masterclass, picking up 6 blocks/intercepts, with 4 in the first period. Both teams failed to find their form behind the attacking circle, but two late volfsballs from Andy Marland gifted the Marine Lakers their first victory of the day.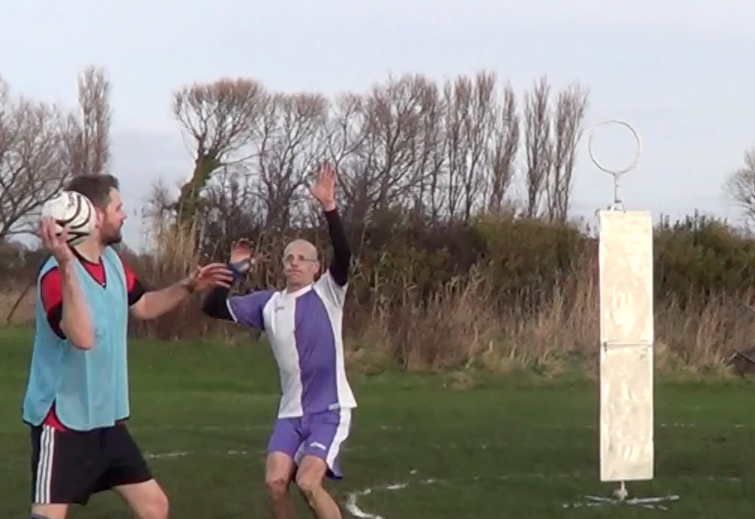 Game 3
Hoylake Red Rocks 13 – 11 Bebington Flaming Fircones
Red Rocks – R. Marland, Birss, P. Marland
Flaming Fircones – Wareing, C. Devlin, A. Marland
This was a high-tempo affair, with both teams unable to connect with their no-look kicks and volfsball attempts. Wareing was applauded for an athletic flying block, but later made an absolute fool of herself by toe-poking a loose Red Rocks' shot back into the prism, scoring what may be the sport's first own goal. With a minute to play the Rocks positively reeked of glory, but then Devlin the younger slotted home a clean volf: the Rocks' lead was slashed to 11-10. Realising shit had just got very real indeed, both teams stepped up their play but it was the Rocks who emerged triumphant in this clash of the northern titans.
Game 4
West Kirby Marine Lakers 20 – 14 Hoylake Red Rocks
Red Rocks – R. Marland, Birss, P. Marland
Marine Lakers – Utley, A. Marland, Marshall
The Red Rocks were looking to extend their franchise record to 6-0, thereby securing their second successive Der Goldene Volf trophy and establishing Hoylake as the north's premiere volfsball dynasty. It was a hardscrabble match from the start, with both teams diving to the ground at every opportunity and not just because it looks cool. Several players found their form below the waist, with successful kicks from Phil Birss, Andy Marland, and Chris Marshall (drafted in for the impoverished Marine Lakers). At the final whistle the Marine Lakers had handed the Red Rocks their first ever defeat and kept their own title hopes alive, thanks to a career-best performance by Marshall with 10 points from 77% shooting.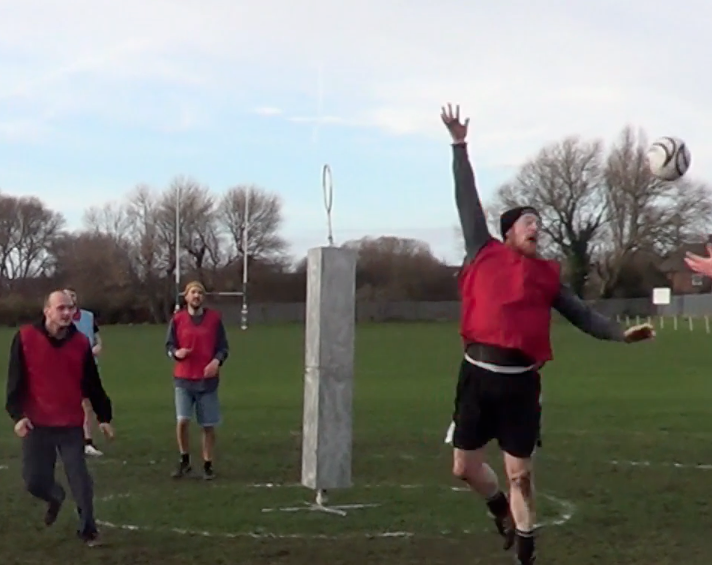 Game 5
Tranmere Lions 14 – 6 Bebington Flaming Fircones
(Score was 15 – 6 on the day)
Lions – Marshall, C. Devlin, P. Devlin
Flaming Fircones – Wareing, Chesters, A. Marland'
With only one game under their belts, and the addition of a rookie player in the form of Adam Chesters, the fircones were looking confident (some might say disgustingly arrogant) as they sauntered onto the pitch. The Lions, however, were merely seeking to avoid a clean sweep. The lack of pressure showed, as the team in purple rocketed to a 9-1 lead within the first third, courtesy of the hoofing abilities of Captain Marshall and Charlie Devlin, and a quite respectable thank-you-very-much three rebounds from Devlin senior. The Fircones clawed their way back to within 4 by the end of the second, but the Lions weren't intimidated as they sprinted out of the blocks at the start of the final period, taking what must be a record 5 shots before losing possession. Play turned aggressive as several players found a loophole in volfsball's "no contact" rule, firing the ball directly at the opposing players' heads and gonads. At the close of play the side from Bebington were rattled but still in with a chance of snagging the trophy pending the results of game 6.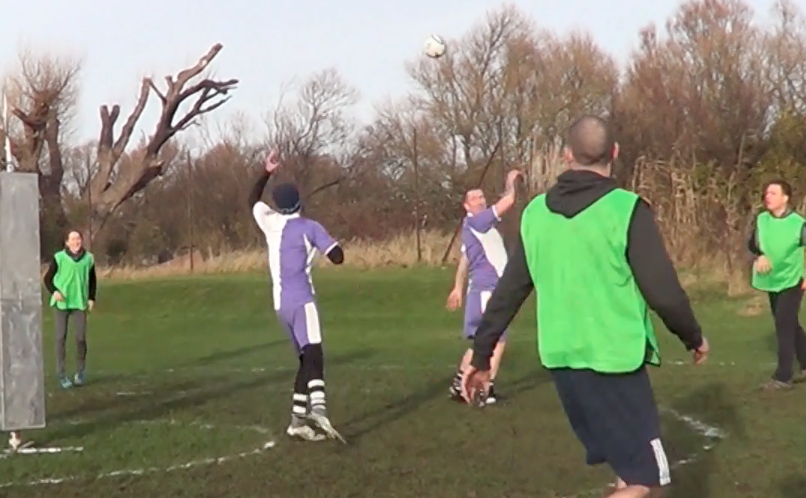 Game 6
Bebington Flaming Fircones 7 – 16 West Kirby Marine Lakers
Flaming Fircones – Wareing, Chesters, C. Devlin
Marine Lakers – Utley, A. Marland, C. Marshall
The Lakers and Fircones tossed for A. Marland and the team from West Kirby came up smelling of gravy. Bebington drafted in Devlin Jr and West Kirby pilfered on-form Chris Marshall from the eliminated Lions. With only one win in their pockets and carrying a points difference of -10 to the Lakers' +18, Wareing's Fircones needed to win by a pant-shittingly massive 28 points just to force penalties. Thankfully, nobody realised this at the time or it would have punctured the tension somewhat.
Chesters opened proceedings with a volfsball in the first second of play, and it only got more sexual from then on. Early in the second, Charlie Devlin connected with a volfsball of his very own, but the 5 points were soon debited from his account when the referee adjudicated that the frolicsome youngster had travelled before launching his shot: volfsball truly is a cruel mistress. A deathly hush descended over Hoylake Fields. Andy Marland knocked down a volfsball and was rewarded with silence. His next three shots were blocked by Chesters (the rookie totalled 8 blocks/intercepts for the game) and everyone admitted they were witnessing top-flight volfsball. It was a fitting end to the tournament but the victors were never in doubt: West Kirby trotted off with their first piece of silverware and a place in the volfsball hall of fame, which Chief Engineer Larwood no doubt already has in the planning stages.
A great day for volfsball, and a great day for the north.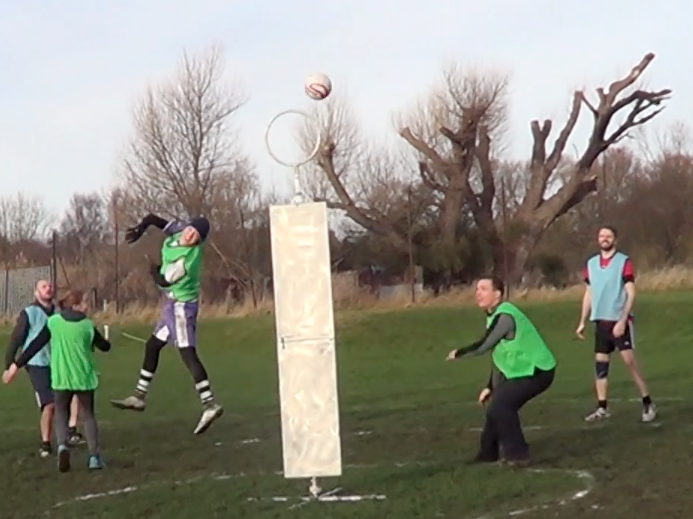 | | Games | Shots | Hits | % | Pts | PPS | Blks/Int | Off Reb | Volfsballs |
| --- | --- | --- | --- | --- | --- | --- | --- | --- | --- |
| Rob Marland (Red Rocks, Marine Lakers) | 4 | 28 | 18 | 64 | 20 | 0.71 | 10 | 2 | 0 |
| Phil Birss (Red Rocks, Marine Lakers) | 4 | 32 | 10 | 31 | 12 | 0.38 | 7 | 2 | 0 |
| Phil Marland (Red Rocks, Marine Lakers) | 4 | 26 | 9 | 35 | 9 | 0.35 | 12 | 0 | 0 |
| Chris Marshall (Lions, Marine Lakers) | 5 | 38 | 14 | 37 | 15 | 0.39 | 17 | 6 | 0 |
| Charlie Devlin (Lions, Fircones) | 5 | 66 | 13 | 20 | 21 | 0.32 | 21 | 2 | 1 |
| Paul Devlin (Lions) | 3 | 30 | 5 | 17 | 5 | 0.17 | 5 | 3 | 0 |
| Sam Marland (Red Rocks) | 1 | 2 | 0 | 0 | 0 | 0 | 0 | 0 | 0 |
| Andy Utley (Marine Lakers) | 3 | 21 | 6 | 29 | 6 | 0.29 | 10 | 4 | 0 |
| Andy Marland (Fircones, Marine Lakers) | 5 | 73 | 19 | 26 | 35 | 0.48 | 18 | 4 | 3 |
| Hannah Wareing (Fircones) | 3 | 14 | 2 | 14 | 2 | 0.14 | 6 | 0 | 0 |
| Adam Chesters (Fircones) | 2 | 21 | 3 | 14 | 9 | 0.43 | 13 | 0 | 1 |