Volfsball Hits the Beach
Report by Rob Marland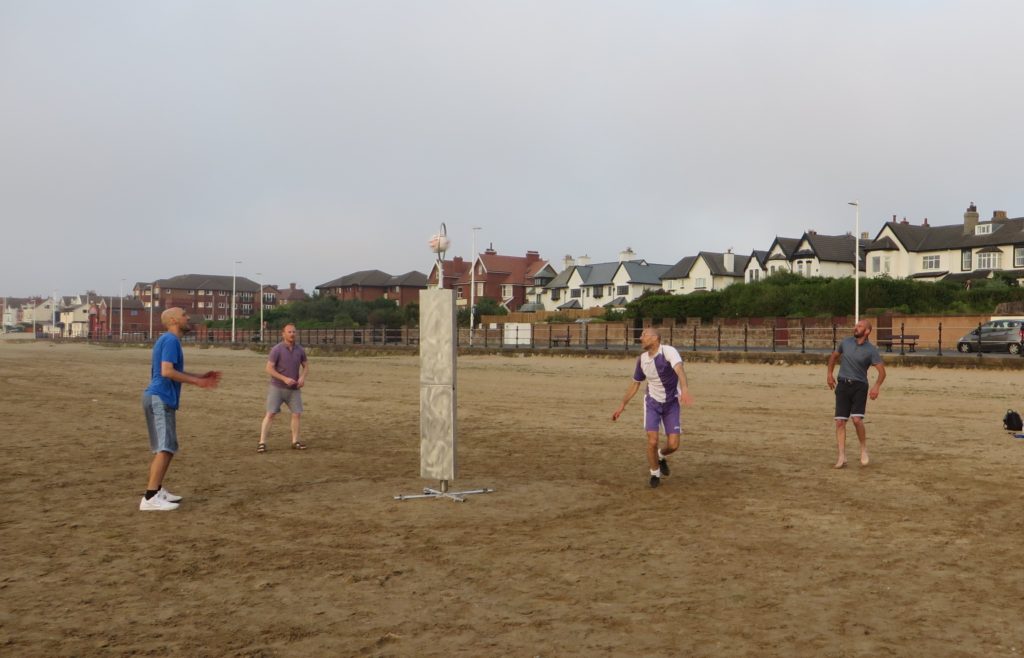 Andy Marland hits a Volfsball
As the sun set over Hoylake sands on Wednesday, a handful of sporting heroes gathered to contest the first ever game of beach volfsball. It was an evening of exhilarating highs and nauseating lows.
Play was delayed by almost half an hour, when Der Goldene Volf star, Andy Marland, forgot he was supposed to give older brother Rob a lift to the beach and instead went to the pub.
Later, as the rusty volfsballers warmed up, Bebington Flaming Fircones stalwart, Nick Goldup, toe-poked a ball and instantly dropped to the sand like a sack of spanners. Goldup was rushed to hospital (by himself) and everyone else got on with playing volfsball.
A passing six year old boy, inspired by the role models on the pitch, asked to join in. Within seconds, this keen youngster proved himself a natural by booting in a powerful doppelvolfsball. No video footage exists of this historic event, but all who paid witness agreed it was the greatest moment of their lives. This lad is surely a future inductee of the non existent Volfsball Hall of Fame.
One man short of two full teams, the remaining players improvised a five-person version of the greatest sport of the 21st century. Two defenders faced off against three attackers, and rotated out whenever they intercepted the ball or forced a turnover. Taking advantage of the confusing rules, a weak defence, and the comparatively massive ring (a full 1.5in wider than the London ring), Andy Marland and Chris Marshall combined for three volfsballs in as many seconds. It might have been four but by this point everyone's eyes had exploded. Powerful stuff.
"Beach volfsball is very cost effective," said the frugal Rob Marland. "Normally it takes five quids' worth of flour to mark a volfsball pitch, but we just used a stick."
At 1am, Goldup was diagnosed with a dislocated knee that had miraculously popped back into place by itself, the second time this injury had befallen a Wirral player in the last 12 months. Discharged with his leg in a hefty split, the Fircones trooper somehow drove himself home. He remains under orders of bed rest until this winter's Der Goldene Volf.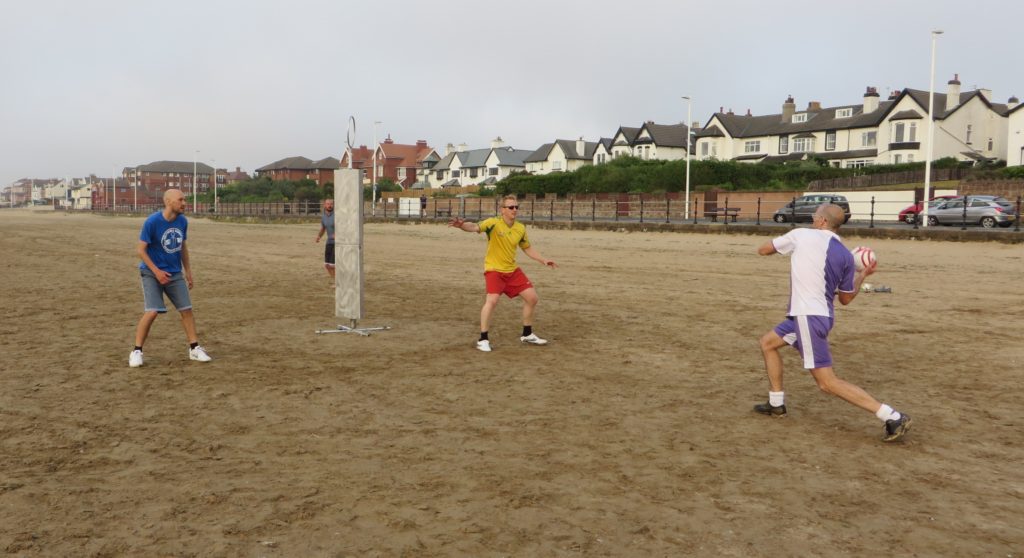 Chris Marshall prepares to unleash a rocket