Second Phase of Volfsball Tests Overwhelming Success
Like Jesus Volfsball found new life this Easter as the second long awaited prototype was tested back in Bembridge on the Isle of Wight. The designs for the new portable aluminium stand were finally completed, and it arrived ready to be assembled.
Once up the stand looked like a silver wet dream, now equipped with a smaller hoop to make Volfsball scoring more difficult. It was time to test the beast.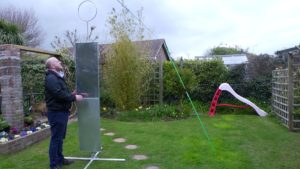 A return of all six Volfsball players from the very first test on Christmas Eve ensured another exciting game.
The only problem was a missing ball so the game was played with a size 4 Volleyball. The new standard ball will now be increased from a size 2 to size 3 football.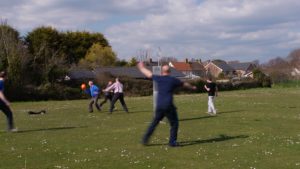 It was another triumph for the Larwood's over the Allen's. Kieran and Alan Larwood on particularly fine form in a flowing and exhilirating sporting experience.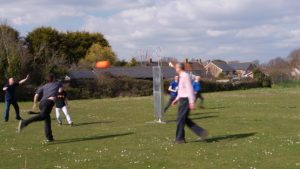 A final score of 14-8 after four three minute quarters. But everyone agreed that Volfsball as well as humanity was the winner.  Marek was suitably relieved as the prototype cost £800 and any chance of him going on holiday this year.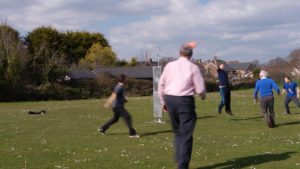 Thanks to Alan Larwood for all his work, and the Volfsball testers Kieran Larwood, Ethan Wilson, Paul Allen and Howard Allen. Happy Volfsball